With the remote control, the treadmill allows you to adjust the speed from 1-10km/h to manipulate workout intensity.
Monitor the running time, distance traveled, calories burned with the LCD so you can see your progress and set goals during your workout.
The treadmill measures at 122 cm x 49 cm x 14 cm, and the max. weight capacity is up to 110 kg.
UNDER-DESK TREADMILL
Work and exercise At the same time
A smooth and ultra-quiet 1.5HP motor and durable steel frame constitute the noise reduction & shock absorption system of the treadmill, which will make you run quiet and comfortable! The treadmill arrives fully assembled and can be used directly after unboxing!
MINIMALIST DESIGN
2-IN-1 TREADMILL
Walking & Running model, meet multiple needs

With speeds ranging from 1 – 10 km/h, the treadmill allows you to adjust the speed by remote control according to your physical condition and your exercise needs.
5 Layers Shock – Absorbing Running Belt.
With a non-slip and shock-absorbing running belt, the treadmill will effectively reduce the impact while running, therefore protecting your knees.
NOTE: Please do not put the treadmill on the thick and plush carpet/mat, or else it will affect the heat dissipation of the treadmill.
Portable & Compact
Created for home and office use. The treadmill features a compact and ultra-thin design that saves space. Put the treadmill under your standing desk, providing you with the best office fitness while you work. Since it only weighs 49lbs, which is substantially more portable than most office exercise equipment.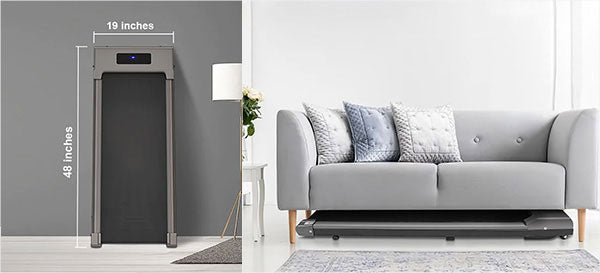 Specification
Technology
LCD display :Time, Speed, Calories burned and Distance
Control Method: Controller
Engineering
Walking Speed: 1-10KM/H
Peak Horsepower: 1.5hp
Weight Capacity: 242lbs
Convenience
Weight: 49lbs
Measures at 122 cm x 49 cm x 14 cm
Installation-free